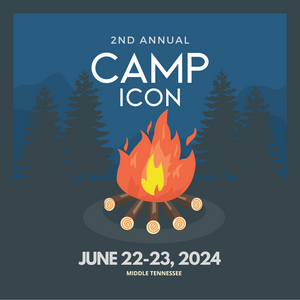 We're doing it again, and this time it'll be bigger and better than ever! Come and spend an entire weekend with us here in Middle TN for CAMP ICON! Get up close and personal with Shawn and Ariel like you've never been able to before! Like an extended VIP session but with snacks, games, prizes, and more! 

Join us June 22-23, 2023 within 45 min of Nashville, TN at an undisclosed location shared after purchase for a weekend of fun! Itinerary will be sent prior to the event, and once you purchase your ticket you'll be on the mailing list to vote on activities of YOUR choosing! Ticket pricing will go up as the date comes closer.

Several acoustic performances 

Live songwriting session with Shawn and Ariel (You help pick the topics!)

Lunch and Dinner with the band on Saturday

Breakfast with the band on Sunday 

Exclusive Breakout sessions with Shawn or Ariel 

Puppy Playtime with Flicka 

Exclusive Camp Icon Laminate and Lanyard

Exclusive Camp Icon merch

Group photo with Shawn/Ariel printed and signed

All the selfies you desire

Games, contests, and prizes 

Movie night - You vote on the film!

ALL the snacks!
And so much more! 
Fine print: Meals/Snacks included, dietary restrictions and allergies will be accommodated. Some experiences may be outdoors/rustic. 
Lodging is not included. Travel to/from Camp Icon is not included, event will be within 45 miles of Nashville.
Ticket sales are final and are not refundable, but may be transferred by emailing help@iconforhire.net